"Whoever builds a Masjid for the sake of Allah, Allah will build for him a house in Paradise." – Agreed upon Hadith
Our Community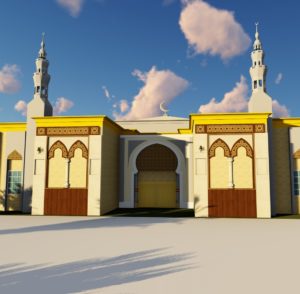 Bonita Springs is a community of 55,000 people. Around 15 years ago, a few Muslim families started the first Friday prayer in the back room of a small retail shop in Bonita Springs. Several years later, the same group rented a two-unit space in a retail shopping center in the Bernwood area of Bonita Springs, where it held congregational prayers, Iftar during Ramadan, and other gatherings for several years.
In 2017, the community purchased a 5-acre property just east of Interstate 75 and set up two mobile structures to use for prayers and gatherings.
We hold Friday congregational prayers, daily Fajar, and Isha prayers at the temporary masjid, and work regularly together to improve the new land and ready it for the construction of our new Islamic Center. Masha-Allah, we are now rent-free and we keep our operations expenses to a minimum. Now all our financial attention is turned toward the new Masjid.
We need your assistance to raise money for this noble project.
Our Building Project
The estimated cost of the total project is $875,000. We are looking at a 15,000 square-foot plan (8,000 sf masjid + outdoor amenities) with:
Prayer hall for men and women
Classrooms, library, kitchen, bathrooms, and an activity room
Community garden and playground for young kids
Parking lot to accommodate attendance of 300-400
Plans and Cost
The ground breaking will take place in Summer 2018, insha-Allah. We plan to complete the plan of building the new masjid in three phases:
Phase 1: Alhamdullilah, we have already accomplished phase 1 by purchasing the land for $175,000. The land is paid for in full.

Phase 2: Building the prayer hall, classrooms, kitchen, office and bathrooms.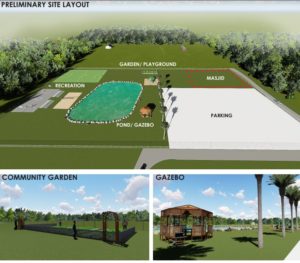 (Estimated cost $600,000)
Phase 3: Parking lot, gazebo, community garden, and playground
(Estimated cost $100,000)
The following videos demonstrate some of the plans currently being discussed for development of the property.
The plans as rendered here are not final, and may be subject to change as the project develops, according to the needs of the community.
Support This Project
"When a man dies, his work for God comes to an end, except for three: a lasting charity, knowledge that benefits others, and a good child who calls on God for his/her (the parent's) favor." – Muslim
We are counting on your generosity. Certainly, Allah will reward you manifolds in return.
Donations are tax deductible.
Please make your check payable to:
Bonita Springs Islamic Center
27721 Faygin Ln
Bonita Springs, FL 34135
Or donate online via the button below.
Donate for the New Masjid Project
Sign Up for our Newsletter